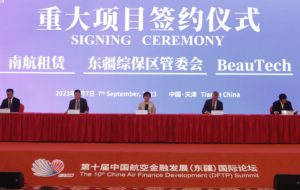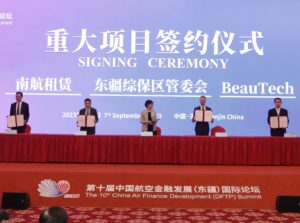 Tianjin, China – 07th September 2023
BeauTech Power Systems has signed a "Strategic Memorandum of Cooperation" with Tianjin Dongjiang Free Trade Port Zone (DFTP) on the expansion of its aero engine leasing business in China.
Mrs. Yang Liu, Director of the Administrative Commission of DFTP signed the agreement during a signing ceremony held at the 10th China Air Finance Development Summit in Tianjin on 7th September 2023.
The summit, which was held again for the first time since the COVID pandemic, is the largest annual gathering of China's air finance industry and was attended by the Deputy Major of Tianjin Municipal People's Government, Mr. Liu Guiping, as well as numerous local and international officials and industry leaders.
Mr. Florian Krauthoff, Vice President Sales Asia-Pacific and General Manager of BeauTech Engine Leasing (Tianjin) Co. Ltd. commented that BeauTech has been very successful on the Chinese engine leasing market since travel restrictions were lifted earlier in 2023. Five CFM56 engines have been placed on long-term leases with Chinese airlines this year, with customers ranging from major international carriers to mid-sized domestic operators. Mr. Krauthoff said: "We thank DFTP for their support and guidance in developing our engine leasing business in China, and we are confident to further expand our leasing and trading activities here in the future".